What Is Your Biggest Challenge Operating a Business in Carlsbad?
For many independent business owners and managers, getting started with marketing can be intimidating.
How can I create a professional image?
Why is my business not showing up in the Google search results?
What are inexpensive ways to market my business?
What is this Facebook Pixel thing I keep hearing?
How do I know if ads I am paying for are working?
We have teamed up with Carlsbad Village Association to host a Q&A dubbed the AMA (ask me anything) to answer all those questions. ‍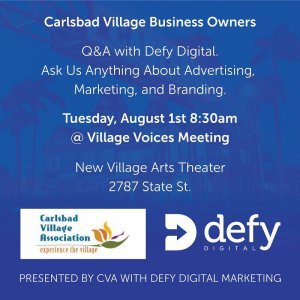 This is your opportunity to get answers to all of your advertising, marketing, and branding questions! Defy Digital will have several of its team members attending to cover a variety of topics. In preparation, we encourage you to submit questions you might have. No question is too small, or too big so don't feel shy. As always free, coffee donuts, and great networking.
Join us on August 1st at the Village Voices meeting! No RSVP is necessary. Bring a friend! Conveniently located inside the New Village Arts Foundry Artist Studios at 2787 State Street.
Village Voices 
Date: August 1, 2017
Hosted by: Carlsbad Village Association
Location: New Village Arts Foundry Artist Studios at 2787 State Street Carlsbad, 92008